Choosing Between Multiple Job Offers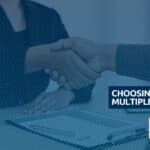 1. How to decide between multiple job offers
Changing jobs can be a big decision, which has a major impact on you and your family's lives.
A successful job search requires preparation and taking the time to consider your desired outcomes. A good recruiter will help you to explore your motivations, allowing you to be more selective when deciding which roles to consider.
2. The Role
Evaluate the parts of your current job you really enjoy, as well as any major frustrations. Use this information as a framework to define your expectations.
3. The Company
It's always worth exploring whether there are opportunities to join companies whose products align with your personal interests. Another approach is to join industries which will allow you to work with the technologies you prefer.
Company size is also an important factor. Start-Ups usually offer varied and fast-paced work, with high potential for impact or growth – but there is often less stability, and structure. At the other end of the spectrum, Enterprise companies will give you structure, and the prestige of working for a known brand – but often at the expense of flexibility and decision-making capability.
4. Culture
Working culture often has a bigger impact on day-to-day happiness than after factors such as salary, and company. Decide whether you prefer a structured work environment or would rather a trust-based environment where you take accountability for your work.
Employee centric organisations support individual growth, and prioritise the well-being of employees, by maintaining a healthy work-life balance. Tenure is a great indicator of culture, so look for companies who're able to retain their staff!
Diversity is another important factor to consider, particularly if you're relocating internationally.
5. Think long term
A new role may not mean an instant promotion, but you should explore the opportunity for progression and even expected time scales.
Having an end goal in mind will help you align your expectations with the needs of the business within an interview process. It will also give you visibility on how your career will develop if you accept a new position.
6. Salary considerations
It's a good idea to have both a target salary and a minimum salary, in mind before starting a search. 10% pay rise when moving companies is a good benchmark, but it's worth speaking to industry colleagues, or a specialist recruiter, to get a realistic picture of the market.
It's easy to get 'blinded' by salary when comparing offers, but this should be balanced with the other factors mentioned above.
Often, odds are that the job offers appear fairly equal in value, making it trickier to choose between them. Considering all the points above will position you to make a well-informed decision on which job to take, but it's still important to trust your gut- you'll know your own preferences better than anyone else. Starting a new job is never without any risks, but having a choice puts you in a position of power.
Go forward excited about the new prospects, not regretting the opportunity you didn't take.